App ROTC Alumni Report Summer 2023
Current App ROTC Uniformed Cadre: LTC Adam Greene (Armor, University of North Georgia) completed his first year as Professor of Military Science. Likewise SFC Andrew Browne, Infantry, has a year in. He will instruct the Juniors this year. Captain Steven Pressley (Logistician, University of North Carolina) will be with us for another semester and instructs the Sophomores. Captain Porter Lockhart (Infantry, University of Tennessee-Knoxville) also will remain for a few more months; he will assist with the Seniors. MSG Paul Sinnott just joined the program from the 5th Special Forces Group and is the Senior Military Instructor. Pictured Below: LT Karslake (Gold Bar Recruiter), CPT Lockhart, LTC Greene, SFC Browne, CPT Pressley, SFC Kinner (National Guard Recruiter)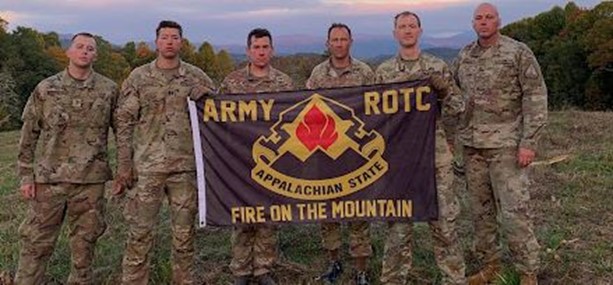 On the civilian side- Eric Church (Class of 97) is the Human Resources Officer. Michael Branham runs Supply and DJ Weatherford (Class of 88) handles freshmen Instruction and Enrollments/Scholarships. The lady who makes day-day operations happen is Sharon Cox in the front office.
Our Point of Pride and our Products are the Officers we Commission. In May we commissioned 15 Second Lieutenants and have 8 more later this summer. This year's Commissioning was additionally special in that we had the participation of two of our most senior alumni—LTG John Evans (88) and LTG Chris Mohan (89). Read more at https://rotc.appstate.edu/news/serve-and-lead-well

As usual we have a good slate of training this summer. There are 22 Cadets attending Advanced Camp at Fort Knox and 4 others going to Basic Camp at the same. One Cadet is slated for Airborne School and 4 others to Air Assault. The Cadet Leadership Training Program, where a Cadet follows and active LT in their day to day activities, will involve 2 Cadets going to Alaska (1 EN, 1 FA); 2 Cadets going to Fort Bragg/Liberty (1ADA, 1 CA); 1 to Fort Carson (AV); 1 to Fort Stewart (AR) and 1 to Fort Lewis (EN). Additionally with Project GO (Global Officer), we have 1 Cadet studying Chinese at the University of Kentucky, 1 studying Russian in Lativa, and 1 studying Arabic in Oman.
Significant events over the last year—
Fall was a roller coaster of emotions as September was a Football season for the books (the rest of the season -not so much). Our musket detail (we shoot Yosef's musket every time App scores) was busy and had first hand seats at the high scoring loss to Chapel Hill in the record attendance setting home opener. App's upset of Texas A&M brought ESPN Game Day to campus and Cadets welcomed Luke Combs to the show.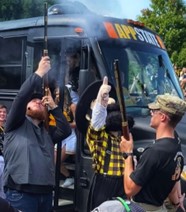 The game ended with an App Hail Mary victor and storming of the field. App Cadets also supported Game Day with the Colorguard (Pershing Rifles) and Tailgate Access Control. We will provide the Colorguard and Musket Detail for Fall 2023 but the Cadets will look at other fundraisers rather than Tailgate Access Control.
App ROTC Fall Field Training Exercises are done in the High Country and we have used a variety of properties. This past year saw the first use of the North Carolina Forest Service Mountain Training Facility at Crossnore. Instruction for the Fall FTX was by the 1st Battalion, 2nd Security Forces Assistance Brigade (SFAB) from Fort Bragg -- also a first. This proved to be a great experience and we will look forward to replicating that this year. Read more at https://rotc.appstate.edu/news/leaves-are-changing-and-app-rotc-training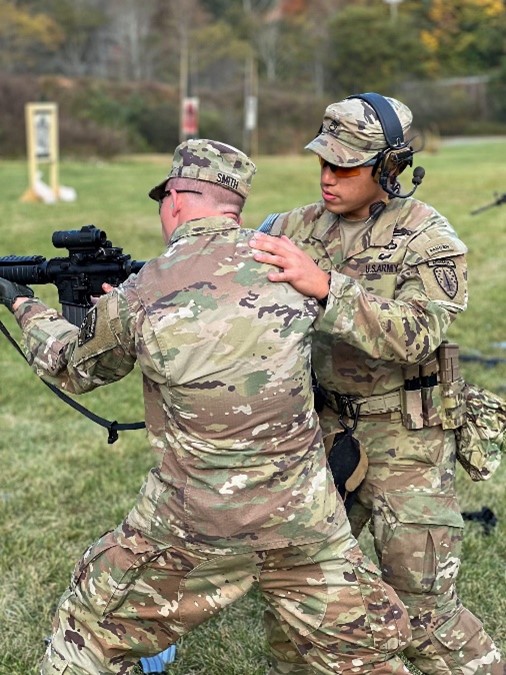 The Ranger Challenge Team rendered another solid performance –placing 5th overall of 38 programs and the semester wrapped up with two social events; the Dining-In and Holiday Reception at LTC Greene's house.
( LTC Greene adresses Cadets prior to eating and Dining In parody skits)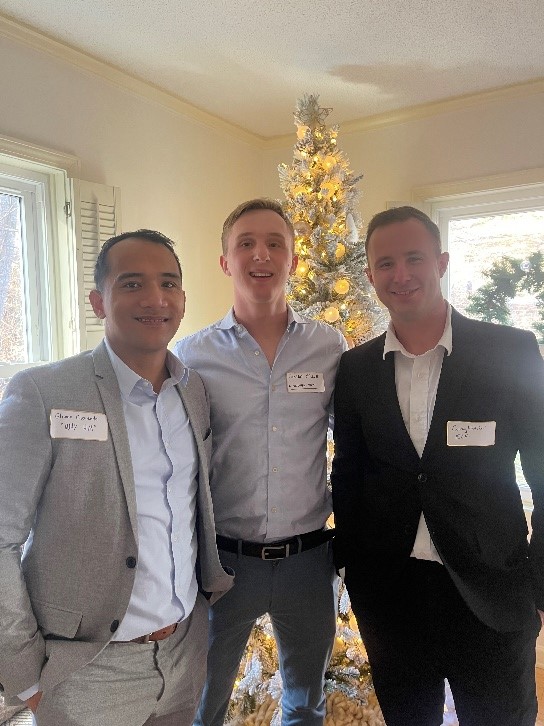 (Photo- Seniors at LTC Greene's Holiday reception)
Early into the Spring semester we conducted our formal—the Dining Out. The guest speaker was David Jackson, an Appalachian State Alumni and well-known sports broadcaster. He is the President and CEO of the Boone Chamber of Commerce and spoke of how leadership attributes learned in ROTC resonate well in civic communities. Read more at https://rotc.appstate.edu/news/good-looks-and-good-times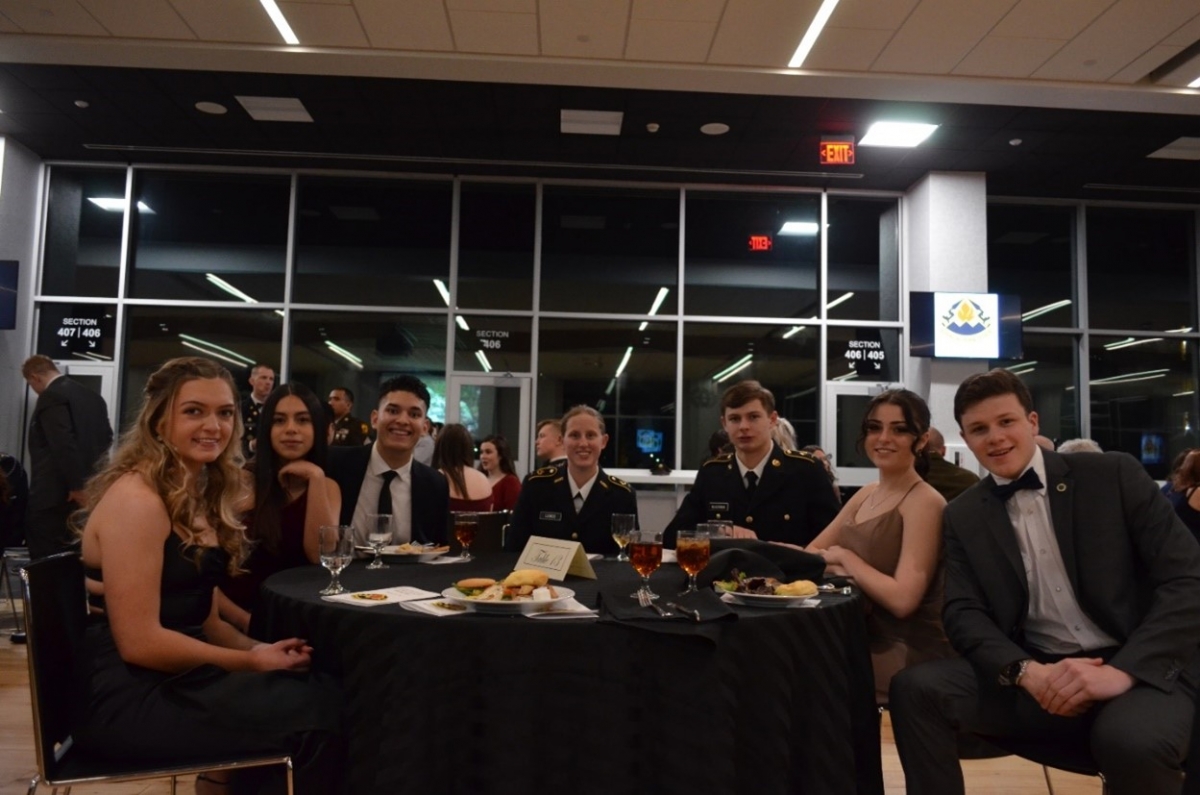 The Spring FTX was conducted at Fort Bragg with Wake Forest and NC A & T programs. Cross manning squads and platoons with Cadets from each school best replicates the leadership environment they will experience at ROTC Advance Camp.
Spring 2023 saw noteworthy competitive success in two areas—Drill and Ceremony at the National Pershing Rifle Convention and at the annual Mountain Man Memorial March.
Following a day of drill competition judged by the U.S. Army Drill Team, the App ROTC Cadets placed first overall against teams fielded from 23 universities across the country. They were awarded the title of "Varsity Rifles". Read more at https://rotc.appstate.edu/news/starting-spring-break-exceptionally-well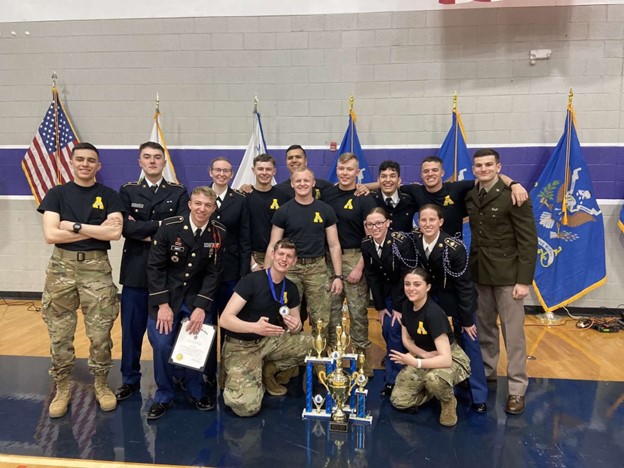 One again we sent a platoon over the mountain to Gatlinburg Tennessee to compete in the Mountain Man Memorial March and once again we came back with trophies and medals. Our Full Marathon, Heavy Gear Male teams, placed first and second. We secured several other individual accomplishments as well . We have a special relationship with this event and the Cadets thrive on the challenge—read more at https://rotc.appstate.edu/news/honor-through-action-fierce-competition-cause
The High Country Chapter of the Military Officer Association of America habitually supports App ROTC (funding the Mountain Man Competition this Past Semester) and our Scabbard and Blade gladly teamed with MOAA in recording Veteran markers at the Mount Lawn Cemetery in preperation for Memorial Day (pictured below). Read more at https://rotc.appstate.edu/news/service-saturday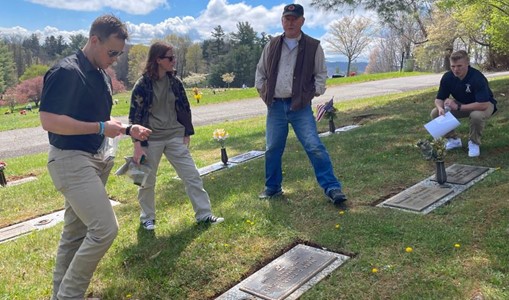 In addition to having LTG Evans and Mohan participate in the Commissioning –we had two App State Distinguished Alumni visit for Cadet Interaction. MG (Retired) Reeder (81) visited with seniors and discussed Leadership (below).
MG (Retired) Beck (78) attended our Spring Awards ceremony and presented Cadet Pruitt with the Reserve Officers Association award (below).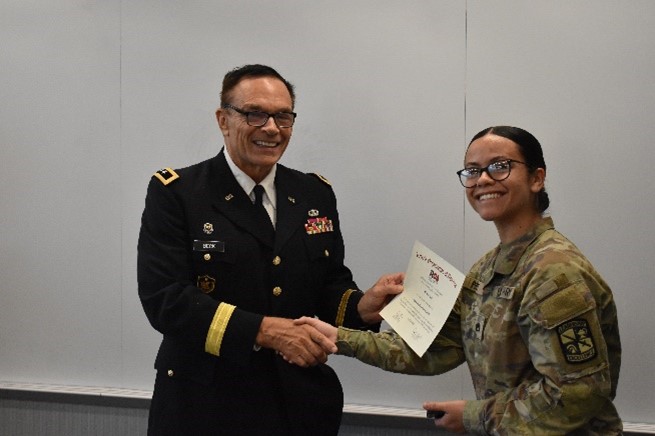 Finally the night prior to Commissioning, the Appalachian Commando Club celebrated its delayed 50th anniversary at Appalachian Mountain Brewery. Some ten alumni and current members recalled the origin of the club, the roll of its founder (Ranger Hall of Fame Inductee 2005, COL Bill Palmer) first club leaders, key advisors and what being a Commando meant to the former members. Robbie Steed and his wife flew in from Texas for the event! Read about the Commando Spring Bivouac at https://rotc.appstate.edu/news/iron-cadets.

The club is contemplating an annual event—perhaps a BBQ in conjunction with the annual Military Appreciation Day Football Game.
Speaking of which—Fall 2023 Military Appreciation Day Football Game is tentatively scheduled for November 4th. Go ahead and mark your calendar. We will probably repeat last year's teaming up with the Military Affairs Committee and host a tailgate at the McKinney Alumni Center. Historically tickets are free for first responders and veterans and half price for one family member. Those tickets are obtained by "Will Call" and in advance of the game. The number of tickets set aside is limited—so don't wait in securing them. The ROTC Department is not involved in ticket distribution in any manner.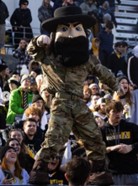 (Yosef at Military Appreciation Day Football Game)
App Alumni Association asked the Department if we would like to participate in a Normandy Tour May 24 – June 2, 2024. We would !!!!.... but can't …..due to Cadet Summer Training which involves most of us. Nonetheless it is a great opportunity for individual alumni. Find out more by contacting Karin Doudna, Appalachian State University Alumni Center, 866-756-ALUM (2586), travel@appstate.edu.
Trivia—Though it goes back to our origin, depending on when you came through the program, you may or may not be familiar with our motto "Fire on the Mountain" or "FOTM". It is prevalent in the program these days and it goes back to the crest that was approved in 1969. The Black and Yellow(Gold) represent the colors of the University. The three mountain peaks allude to the geographical location of the university in the Blue Ridge Mountains of North Carolina, The Crossed Bayonets represent military training. The flame (originally lamp enflamed) is indicative of knowledge and wisdom—and the origin of the Battalion's slogan—"Fire on the Mountain"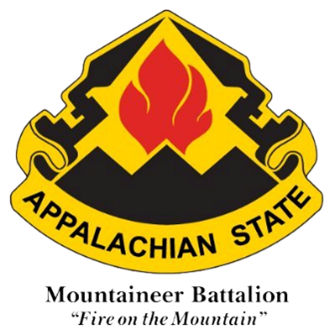 So that wraps up this report. We ask you to stay engaged—the program is part of your legacy and your experience in it, and subsequently in service, resonates with the current cohort of Cadets. Leave your thoughts and experiences at https://rotc.appstate.edu/alumni. We pass them on.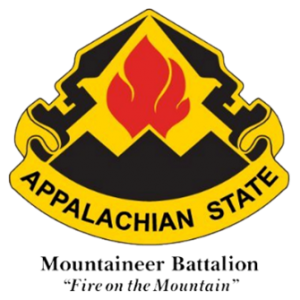 Tags: