The Appalachian State ROTC Program Cadets traveled to Gatlinburg, Tennessee, to take part in the Mountain Man Memorial March from Friday 21st through Saturday 22nd. This event honors Gold Star families, the sacrifices they have endured, and the ultimate sacrifice our service members have made. The Mountain Man Memorial March also serves as a way for Cadets to show what they are made of and put forth their best during the half or full-marathon ruck march-- either as five-member team or as individuals. Each participant in the Full and Half event competes in military boots and pants and carries a 35-pound rucksack. The event hosted over 800 competitors and several military and ROTC teams. Appalachian State brought four teams total (three men's teams and one female team) and many individual racers this year. The male full marathon team has taken home first place for the past eight years that the event has been conducted in person!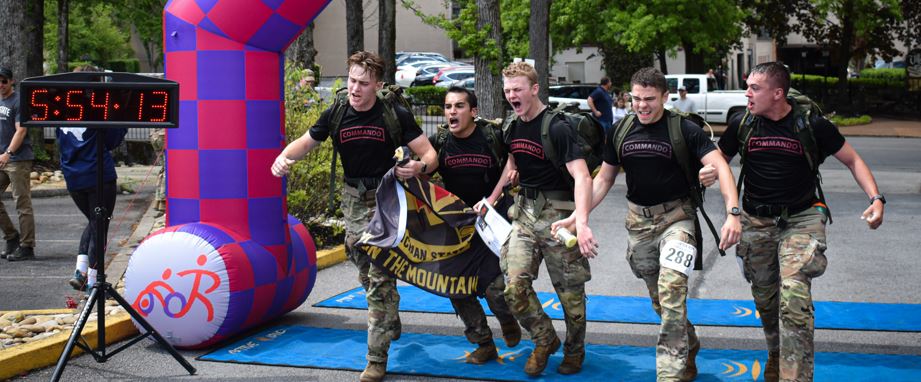 (Photo Above- First App Full Heavy team finishing. Left to Right:Cadets Fox, Ellridge, Hooks, Ruiz and Havens )
App State not only took first place for the male full marathon event but also second with our second marathon team.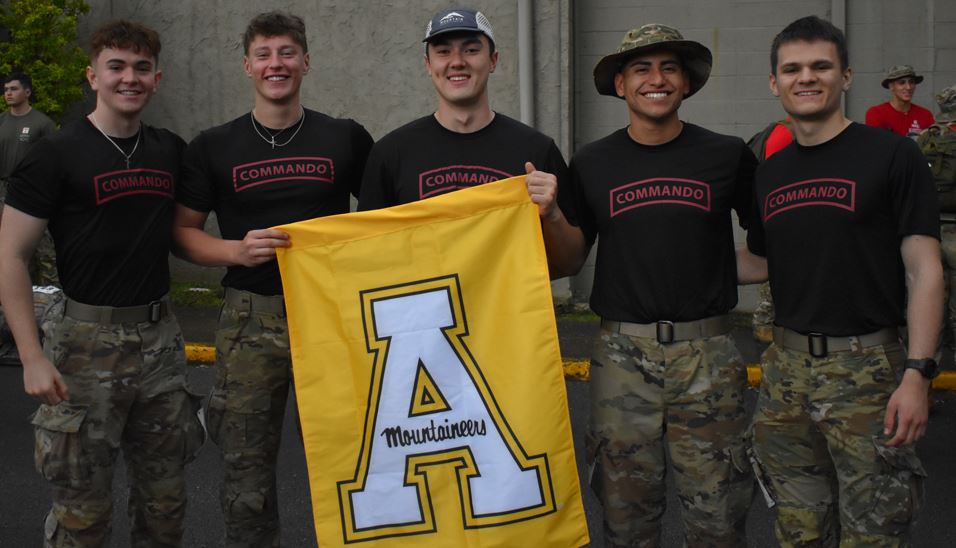 (Photo Above- second App Full Heavy team. Left to Right: Cadets Swanson, Siefert, Gulley, Pavon and Snodgrass )
The male first place team marched in honor of Cadet Hasbrouck, an Appalachian State ROTC Cadet who passed away during the Mountain Man Memorial March on April 21st 2012. Cadet Hasbrouck's mother, Patricia Hasbrouck, has made an appearance each year to support App State in her son's remembrance.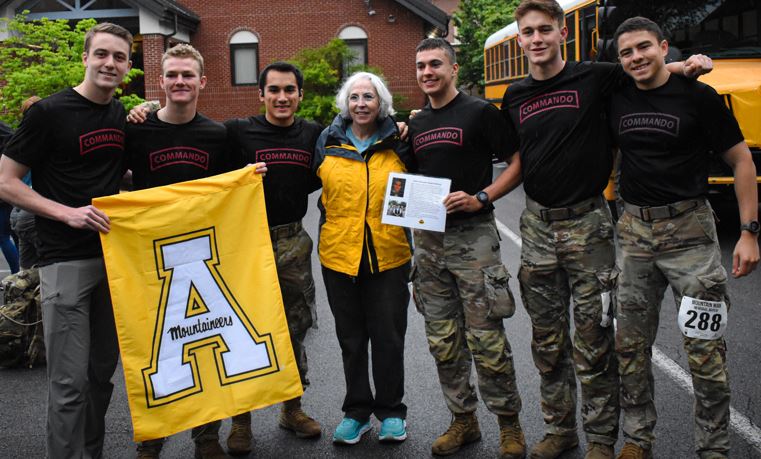 (Photo Above- First App Full Heavy team with Patricia Hasbrouck )
The male half marathon team placed 4th overall, and showed lots of growth, earning a time that was 23 minutes faster than last year!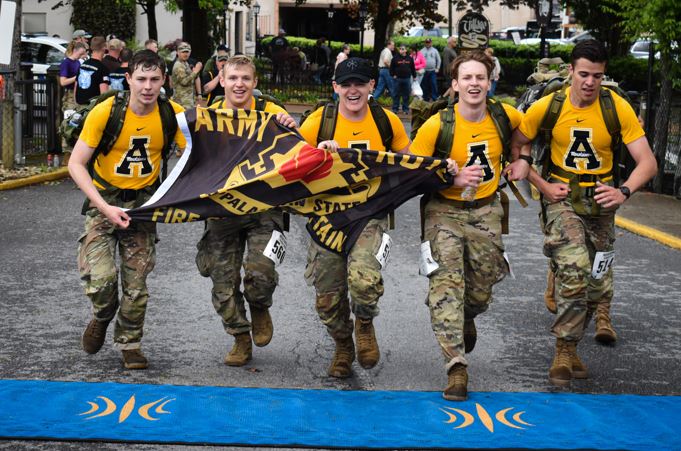 (Photo Above- App Male Half Heavy team Finishing. Left to Right: Cadets Blackman, Manganaro, Elliot, Bowland, and Scrivner )
Appalachian State has also gained a reputation for consistently bringing female-only teams each year, this year's female team participated in the half marathon.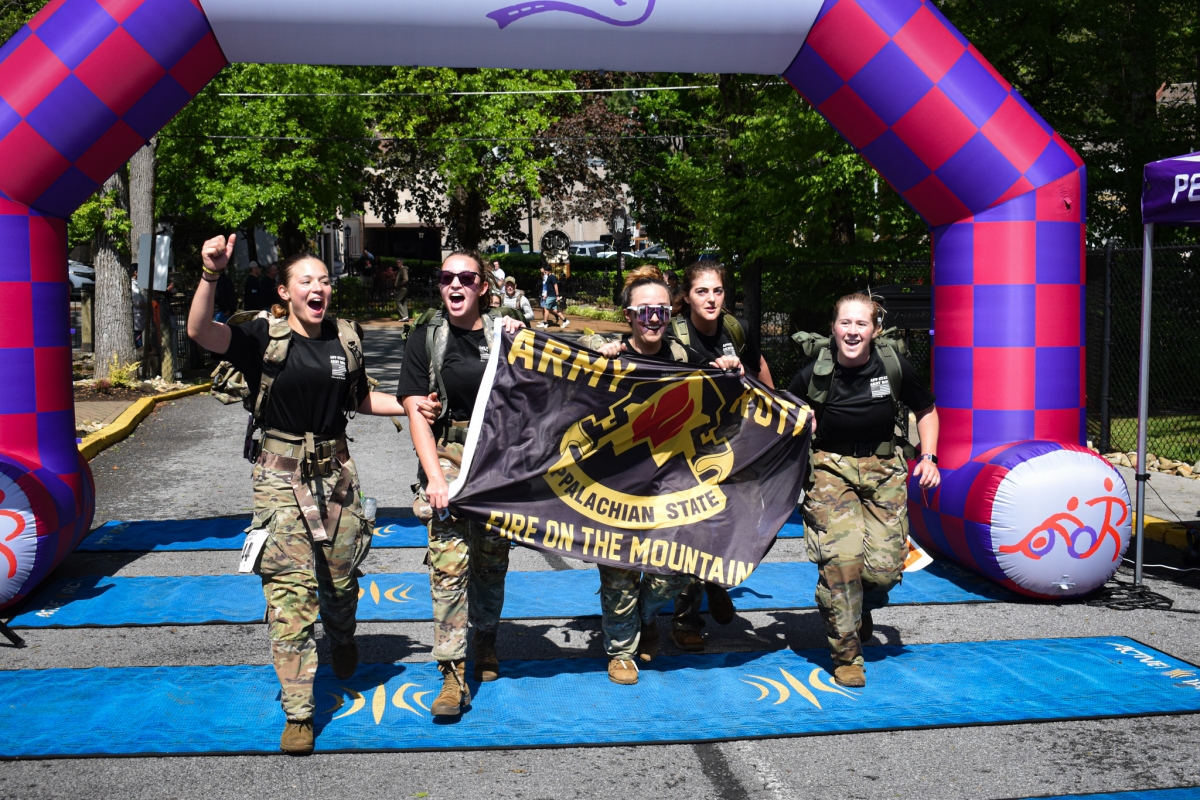 (Photo Above- App Half Female Heavy team Finishing. Left to Right: Cadets Hyten, Zmiewsky, Baker, Hoffman and Marsh )
Through rain or shine, App State has proven their numerous victories time and time again with Honor in Action!
Highlighted individual racers:
Males: CDT Clemente, a Senior, placed 3rd overall in the half marathon with an impressive time of 2:37.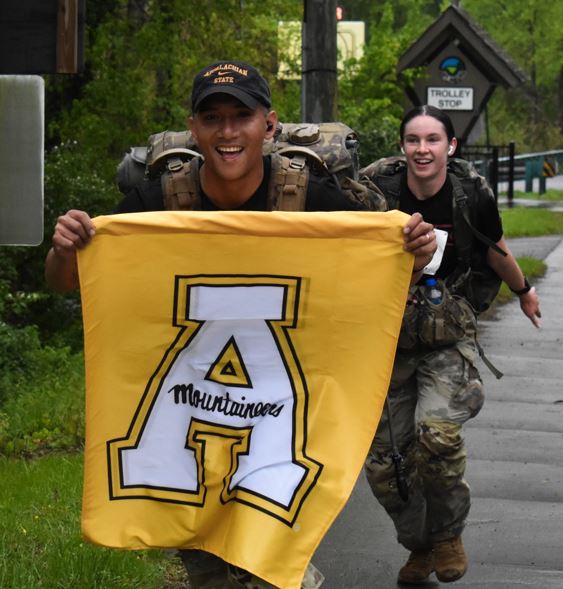 (Photo Above- Cadet Clemente followed by Soucek)
Females: CDT Forgrave, a Junior, placed 2nd out of all females in the half marathon (2:53), followed by the 3rd place spot for females taken by CDT Wilcox, a Junior, (2:56)!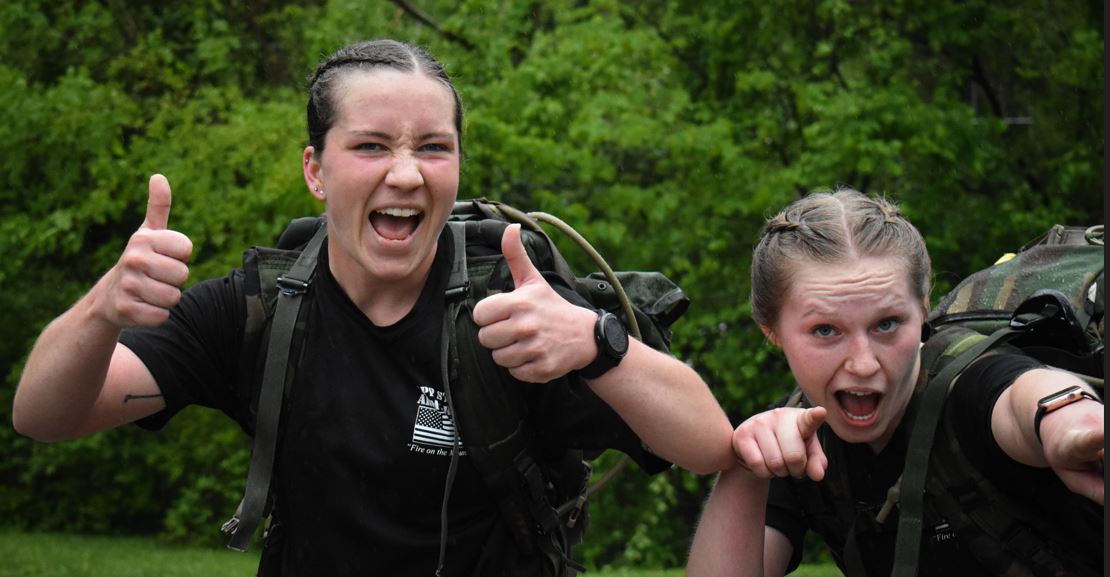 (Photo Above- Cadets Forgrave and Wilcox)
CDT Soucek, a Freshmen, was the only female from App State to participate in the full marathon march, not only did she hold the 1st spot out of 5 females to race the military full marathon, but also finished 5th overall amongst the military males category! (6:14) (Pictured Below)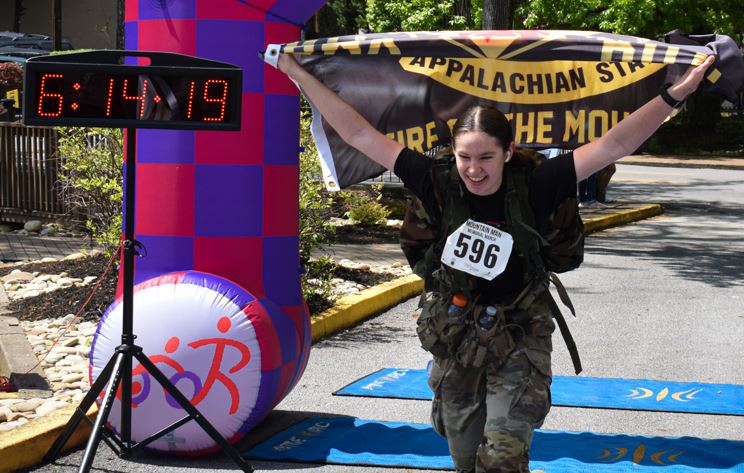 Fire on the Mountain!!!!
The 16th annual Mountain Man Memorial March (MMMM) honored the Nation's fallen service members and their Gold Star families. It was originally organized as a way to honor 1LT Frank B. Walkup IV, a 2005 University of Tennessee graduate and ROTC alumnus, who was killed in action in Iraq in 2007. The University of Tennessee ROTC hosts the event in Gatlinburg Tennessee where 1LT Walkup was from and trained. We greatly appreciate UT's hosting and dedication to running this event.
Photos by Cadet Rogers and article by Cadet Pruitt
Never Forgotten: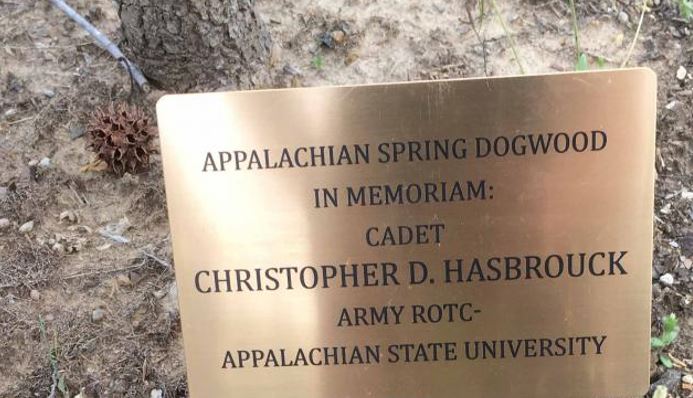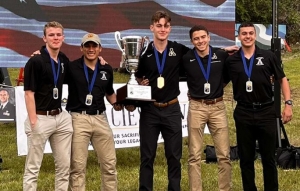 Tags: