Brigadier General John Evans, Appalachian State ROTC Distinguished Alumni (Class of 88), conducted a Leadership Development Program on 25 January in the Student Union. BG Evans is the Commanding General of US Army Special Operations Aviation Command at Fort Bragg. He first talked about the Global Threat Assessment that US Foreign Policy and the Military needs to be prepared to meet across the spectrum of operations and then gave his Leadership thoughts and philosophy.
Following the session, Brigadier General Evans promoted the Professor of Military Science to the rank of Lieutenant Colonel. LTC Kleman indicated the ceremony was not for him but for the acknowledgement of those who have supported him through his career—Family and Friends/Comrades. He wanted the ASU ROTC Cadets to see that appreciation. LTC Kleman noted that some of those comrades had traveled from Fort Campbell and Fort Bragg to be present and were highly decorated in the Service of the Nation.
Both BG Evans and LTC Kleman were former members of the elite "Night Stalkers" --160th Special Operations Aviation Regiment.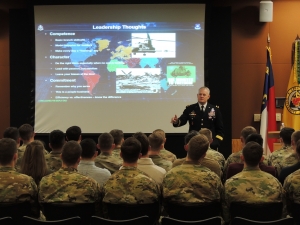 Tags: