The 20th annual Polar Plunge was held on Feb. 23 at Appalachian State University's duck pond off Rivers Street. Polar Plunge is an event where college students and on-campus organizations donate money for Watauga County Special Olympics, then jump into freezing water for the cause. The event is sponsored by University Police, other local area law enforcement agencies and Watauga County Parks and Recreation Department. Registration for the plunge began at 3 p.m. with the plunge beginning at 4 p.m.
The ASU ROTC program raised $1,320 this year with a total of 68 plungers (largest amount raised by any group this year). The Commando Club, with MSG Hawthorne, SFC Hamilton, CDT Wilson, and CDT Simpson, lead the way by constructing a rope bridge and crossing the pond first. The ROTC Program split into two groups: one crossing the pond with the rope and the other jumping in from the docks. Cadet Natasha Peting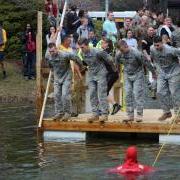 Cadets going head over heels for a good cause!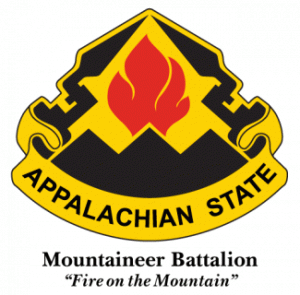 Tags: