Congresswoman Foxx speaks at Army officer commissioning
BOONE — Five Appalachian State University ROTC Army Cadets were commissioned to be 2nd Lieutenants Aug. 11.
A 2nd Lieutenant rank is the entry-level position —out of 11 — for commissioned officers in the Army. To become an officer, cadets attend a commissioning ceremony to take an oath of their new officer position.
Those being commissioned were Ojo Babalola, Darlene Girardeau, Nickolas Lenoard, Jared Stratton and Brian Wilson.
Babalola branched active duty field artillery and is a green to gold non-scholarship cadet from Fort Hood, Texas. He is a sociology major, is air assault qualified and a member of the national society of collegiate scholars.
Girardeau branched National Guard Quartermaster and is an art and visual culture major. She was also a member of the ASU state track and field team.
Leonard branched National Guard in October 2014 and is in field artillery as well as a criminal justice major at ASU.
Stratton branched National Guard Quartermaster and is a business management major with a concentration in entrepreneurship. Stratton served as the president of the archery team for the 2016-17 school year.
Wilson branched active duty Signal with a branch detail of Infantry. Wilson is an exercise science major and was also a member of the Commando Club and Ranger Challenge team.
Congresswoman Virginia Foxx served as a guest speaker at the event. She told the cadets that there is no more honorable service than to serve in the military of the United States of America.
"Many of you may know that North Carolina and Appalachian State share a motto, 'Esse quam videri.' Which is latin for, 'To be rather than to seem,'" Foxx said. "Many folks would like the content of their character to seem strong, generous and driven. The cadets we are celebrating today are strong, generous and driven."
As the daughter of a World War II veteran and the sister of a Vietnam War veteran, Foxx said she understood the pride family members who had gathered at the ceremony felt for their cadets.
"President (Ronald) Reagan said, 'Freedom is never more than one generation away from extinction.' Judging from the quality of graduates here today, I feel confident that the next generation will remain free and well defended," Foxx said.
The newly commissioned Lieutenant's received their first salutes. This is a time honored tradition in which a silver dollar is given to the first enlisted soldier who salutes a newly commissioned officer, according to Maj. Mark Herlick.
"The origin of this costume is believed to have been done before the Revolutionary War and symbolizes a role that the non-commissioned officers played in mentoring 2nd Lieutenants," Herlick said. "American 2nd Lieutenants in 1816 received a monthly based pay of $25 and an extra $1 for an enlisted advisor. This advisors pay was later discontinued while the responsibility for guiding a newly commissioned officer remains. The present day tradition for giving a silver dollar for the first salute is thought to have its roots in this relationship."
See the photos at: http://www.wataugademocrat.com/news/congresswoman-foxx-speaks-at-army-officer-commissioning/article_59992193-3c9c-582d-821c-82da9b4a3107.html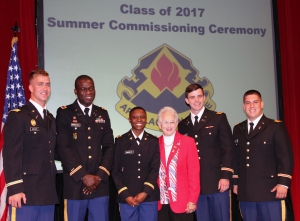 Tags: