ROTC is set up so that the first two years, called the Basic Course, expose a student to Army history, structure, values and attributes. There is no commitment to join the Army by participating in those first two years. They are designed to allow the student to decide if being an Army Officer is right for them. At the same time, it allows the Cadre an opportunity to assess if the student has the attributes required to be an Army Officer.
If that is the case then the student signs up to participate in the Advance Course (Junior and Senior year) and obtains a degree in the major of their choice. Upon graduation, they are commissioned as a Second Lieutenant in the United States Army either on Active Duty (full time) or in the Guard/Reserve (duty is a weekend a month and 2 weeks a year). An Officer is expected to serve for 3 years on Active Duty or 6 in the Guard/Reserve.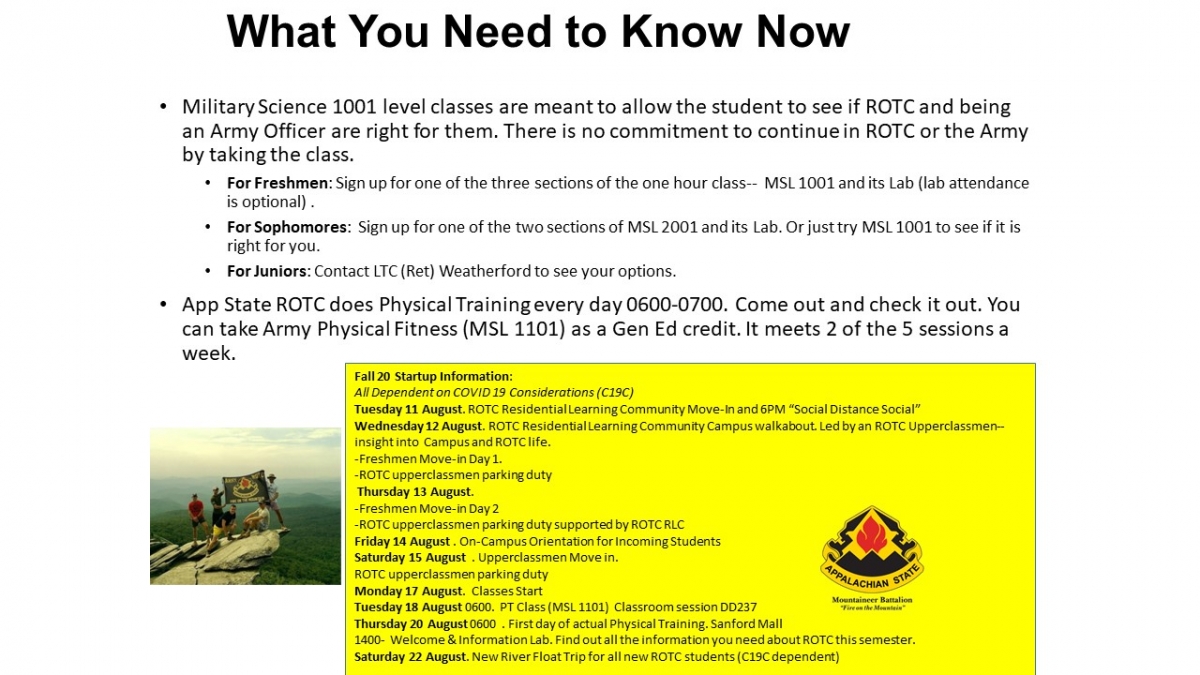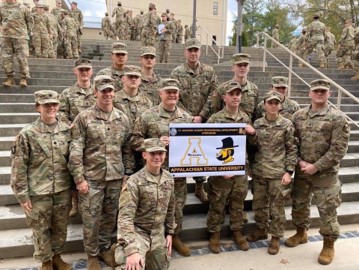 Training during the Advance Course does take more time than the Basic Course because it is designed to get a Cadet up to commissioning standards.
To sum it up—you can take the first 2 years of ROTC (or 1 semester or 1 class) with no commitment to serve to see if it is a path right for you. You sign up by merely enrolling in Military Science 1001 when you arrive on campus.
Finally, we have an ROTC Residential Learning Community (RLC) here at App. The ROTC RLC is a coed floor with 20-30 freshmen and some sophomores who live on the first floor of the brand new building (Thunder Hill) across from the stadium (as of Fall 2020). The RLC provides a support group of kindred spirits who enjoy the comradery of ROTC and sharing some extracurricular outdoor activities. Only about a 1/3 of the freshmen ROTC class are in the ROTC RLC and it is optional –but something to look into it. You apply through ASU Housing at https://housing.appstate.edu/pagesmith/81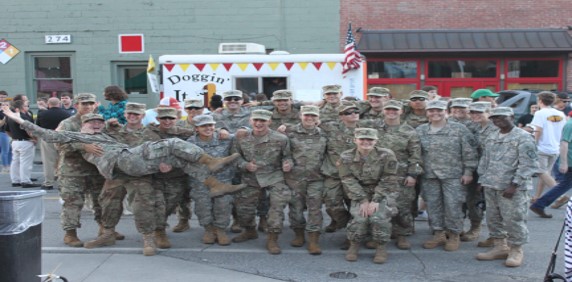 Some more information on Army Officers can be found at:
http://www.goarmy.com/careers-and-jobs/become-an-officer.html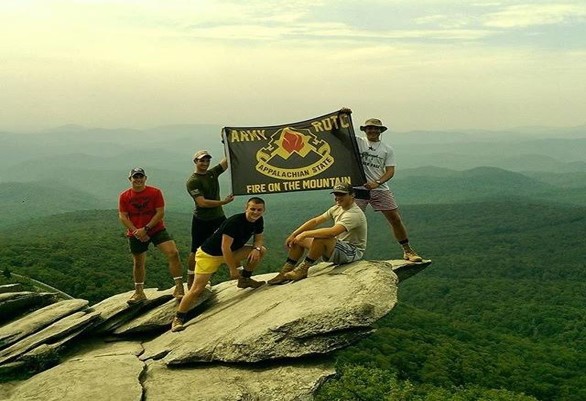 Some Points of Pride for Our Program:
**5 Ranger Challenge Championships
**14 Drill National Championships
**2013 National Color Guard Champions
**2014 and 2018 National 1st in Platoon Armed Regulation
**2015 National 1st in Squad Armed Regulation
**2017 3rd place overall Nationally and voted "Best Drill and Ceremony Company"
**2019 2nd place overall in Drill and Ceremony
**2014, 2015, 2016, 2017, 2018 and 2019 First Place Finish in the Mountain Man Memorial March Competition
Historically, Now, and in the Future, one of the strongest programs in the State, Southeast and the Country
I hope that helps but feel free to ask any further questions and explore our website at http://rotc.appstate.edu/ or on Instagram and Twitter at #appstaterotc or @appstaterotc
Introductory video: https://www.youtube.com/watch?v=YAnIJaNB4F0&feature=emb_title
Other videos: https://www.youtube.com/results?search_query=app+state+rotc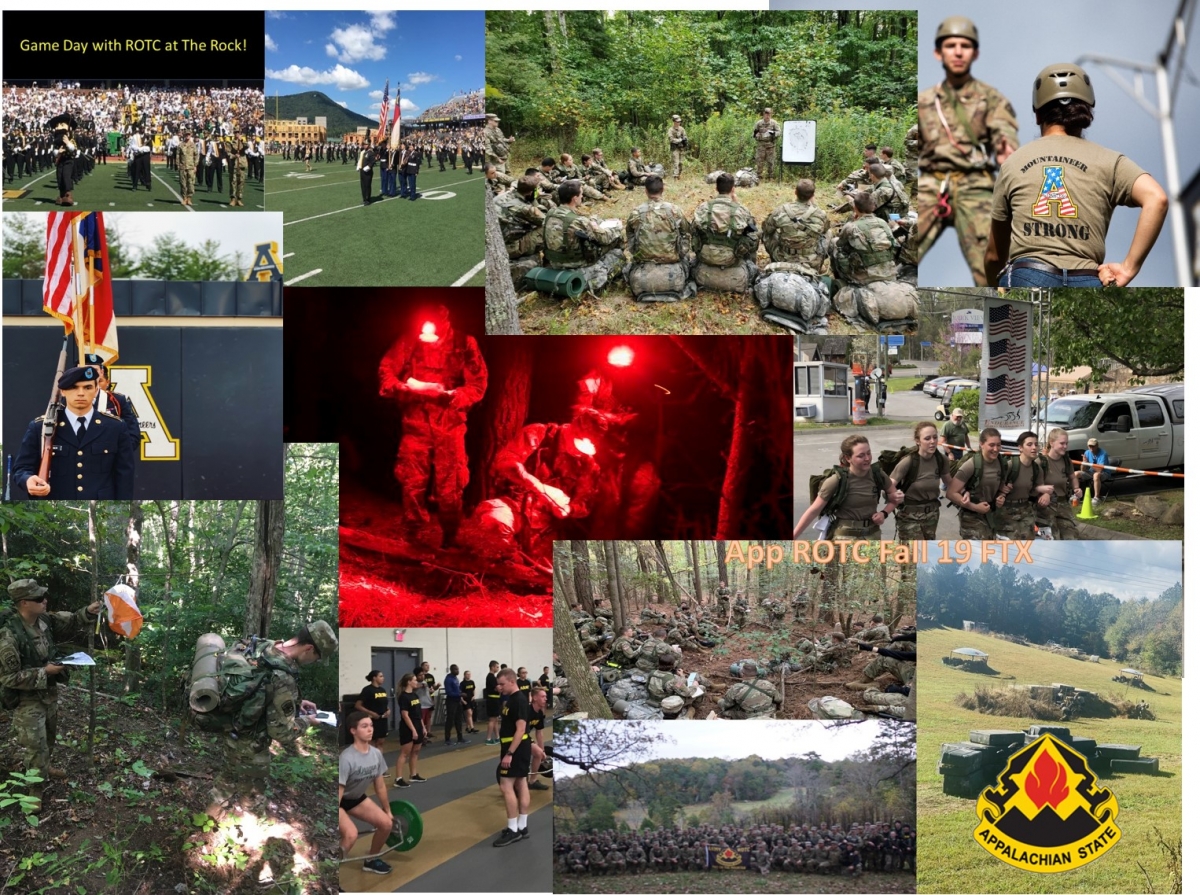 Tags: